When I first discovered Anthropologie, about five or six years ago, I really didn't care much for their style. So, naturally I hardly ever frequented their store. It didn't help, either, that the only store we had here wasn't convenient to get to. Oh yeah, and their hefty price tags...that kind of sealed the deal for me.
Lately, though, I've been seeing others flaunting some pretty sweet stuff either from Anthro or inspired by. Plus, we now have a fancy new store conveniently located closer to where I live (and right next door to my favorite place...Forever 21!).
I decided I was probably over due for at least a brief stroll through their store. After all, it was only fair I give them a second chance.
O.M.G
I'm.in.love.
I sure was wishing their price tags looked prettier. Actually, if you head to the clearance section, the prices are very doable. Still, I didn't pick anything up since my next stop was Forever 21 (to spend a little birthday money) and I knew my money would stretch a lot farther over there.
But, I didn't leave empty handed...or should I say empty brained.
Hmm...not sure if that made sense, but let's just say I was inspired!
(I know, I know...I'm very late to hop on the Anthro train, but I gave you my explanation.)
So, anyway...I saw
these
lovely earrings and, thought, pshh...that would be the easiest peasiest do-it-yourself project ever!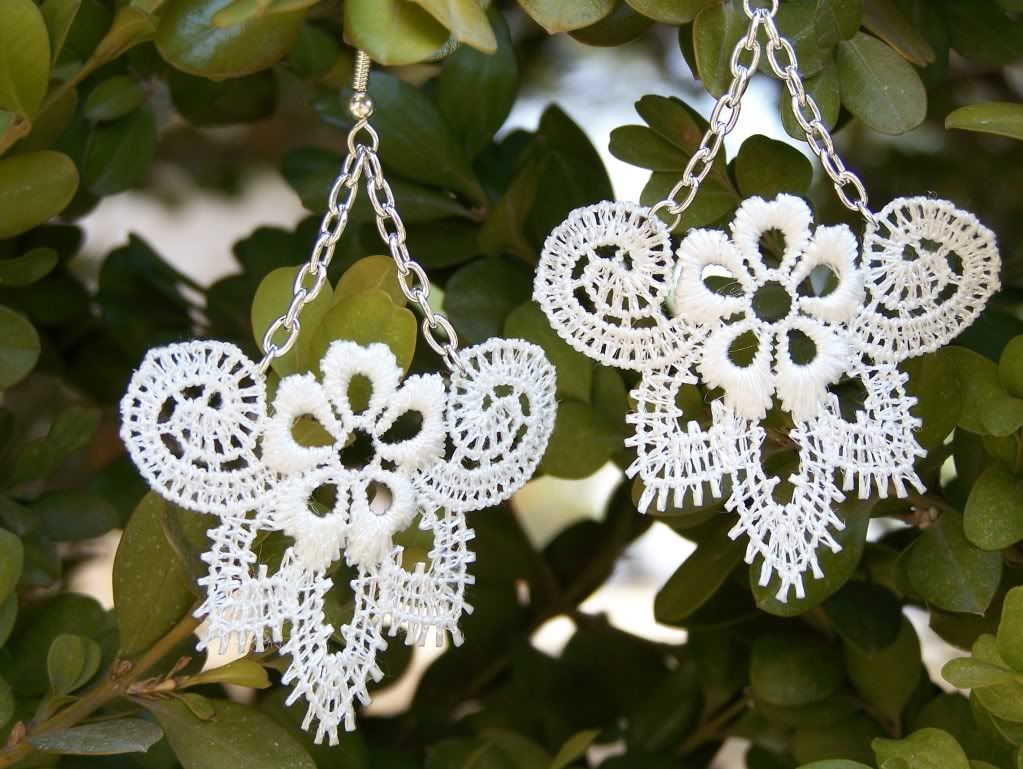 Best part, too, is that I think I like the way mine came out better than theirs. I love it when an idea actually turns out even better than you expected. 'Cause we all know that is not the case every single time.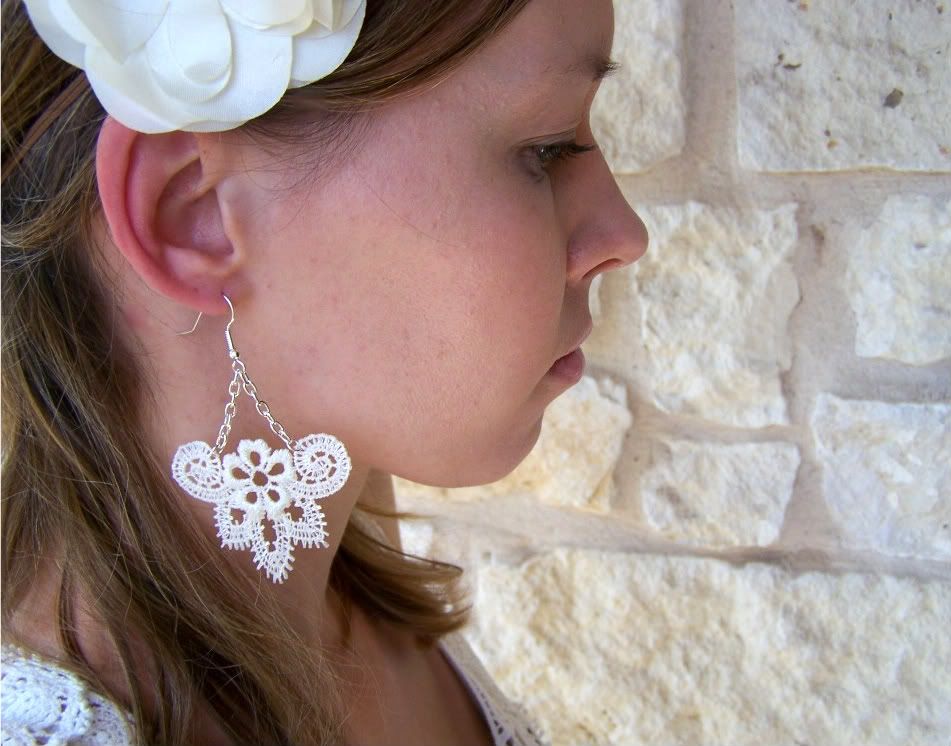 Here is how you can make your own Anthropologie Knock Off Lace Earrings. Trust me, this is sooo easy, you don't want to miss out on having your own pair!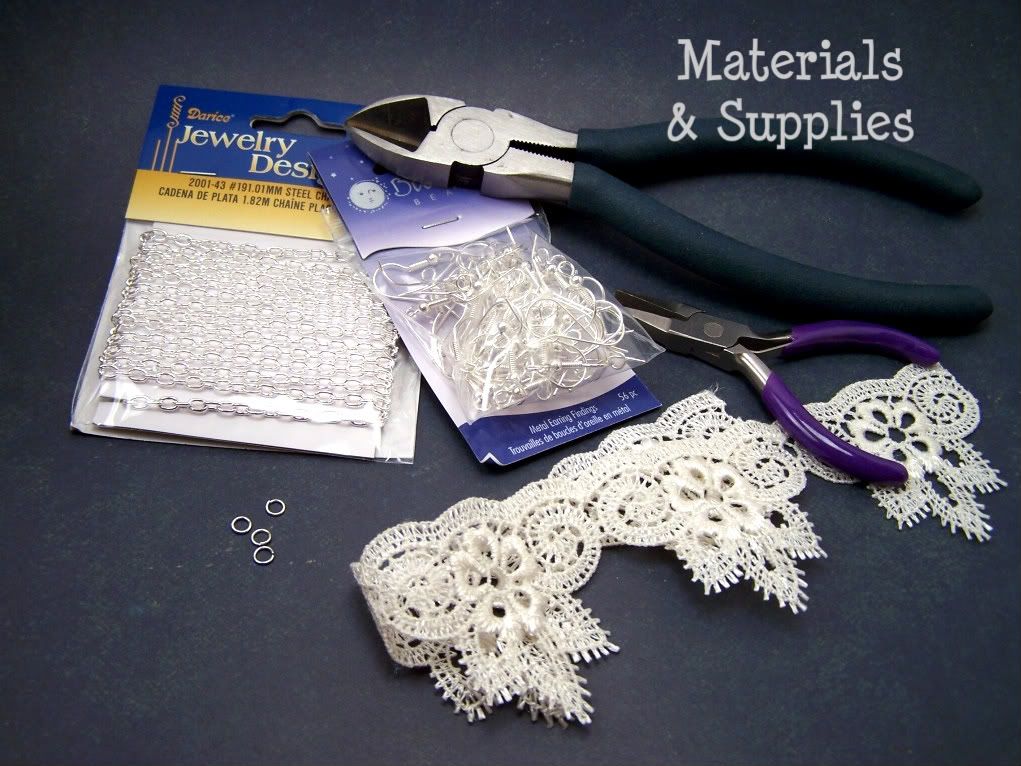 What you'll need:
- steel chain
- 2 hook earwires
- 4 jumprings
- lace trim
- jewelry pliers
-wire cutters

1.) First, carefully cut out each of your lace pieces and trim to desired shape.


2.) Cut your chain to desired length. You may need to test out the length once you've finished and adjust according to how far down you want it to hang, so it's better to start out longer. Mine ended up being 7 chain links long.


3.) Use your fingers (or pliers) to open up the jumprings.


4.) Next, hook the jumprings through the lace. This is something you will also have to test out depending on the shape and size of the lace you are using. I started by putting the jumprings too far out which caused the lace to kind of fold inwards when I put it on, so I moved them in.


5.) Slide the chains through each jumpring.
6.) Use your pliers to close the jumprings.
I believe there is a specific type of pliers made just for this sort of thing, but I just used the one I already had. I'm not exactly an experienced jewelry maker...but I can get the job done :o)
8.) Slide both ends of your chains onto the ring.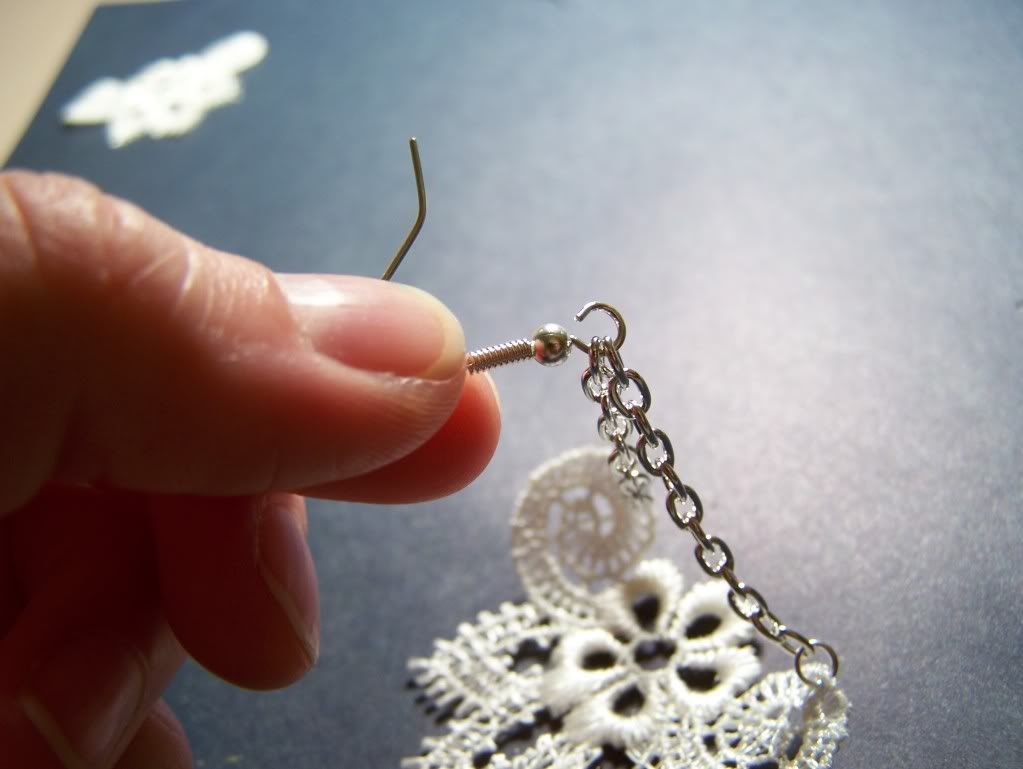 9.) Close up the ring using your pliers.
And...you're finished!
Ahh...I love them!! Even Jeff was very impressed, which means they really are pretty awesome.